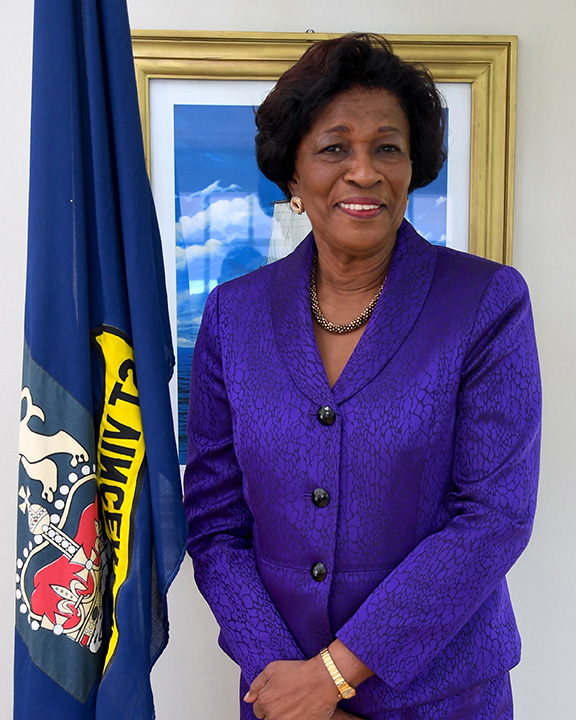 Dame Susan Dougan née Ryan, is the first female Governor General of Saint Vincent and the Grenadines.
The first of three children, Dame Susan was born on 3rd March 1955, at Colonarie, Saint Vincent and the Grenadines, to Walden and Dorothy Ryan.
Dame Susan holds a Bachelor of Science in Chemistry from the University of London and an Master of Arts (Ed.), in Curriculum and Evaluation, from the University of Southampton, United Kingdom.
Dame Susan is an educator by profession; starting as a non-graduate teacher at the Saint Vincent Girl's High School, and rose through the ranks of the teaching service to Headmistress of the said school. With over thirty years in the public service, she served as Chief Education Officer, Cabinet Secretary and Governor-General's Deputy.
Her contribution also extended internationally when she served as Focal Point for the Organization of American States, and Focal Point for the Commonwealth of Learning, along with the responsibility of Chief Shelter Manager in Saint Vincent and the Grenadines.
Dame Susan was awarded an OBE in the 2010 New Year Honours. She was also awarded a Special Commemorative Stamp, issued for the Centennial Celebrations of the Girls' High School, in 2011.
Dame Susan is an Anglican and is married to Hugh Dougan. She is the mother of three children, Kurt, Brent and Kimberley.