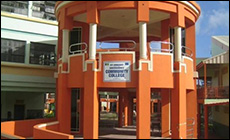 Over one hundred (100), students of the Saint Vincent and the Grenadines Community College (SVGCC), received scholarships from the Republic of China on Taiwan, at an official award ceremony held at the Glen Campus, on Friday 17th November.
This significant charitable gesture comes as a result of a longstanding diplomatic relationship between the Government of Saint Vincent and the Grenadines and the Republic of China on Taiwan, which spans more than three (3) decades.  Recipients received cheques in the amount of EC$1,000.00 to assist with their educational expenses towards the furtherance of their studies at the college. The bursary awarded to this year's students totaled USD$200,000.00, doubling the annual amount previously donated by the Taiwanese officials.

Director of the SVGCC, Mr. Nigel Scott, said that he almost fell out of his chair upon learning from the Ministry of Education, National Reconciliation, Ecclesiastical Affairs and Information, of the increased bursary. "It would be true to say that what Taiwan has done for Saint Vincent over the years, has made a tremendous difference in the lives of many Vincentians."

In his official address to the awardees, H.E. Ambassador Baushan Ger, congratulated the students for their hard work, noting that it is for this reason they have been chosen as beneficiaries by the college. Ambassador Ger also said that "since establishing diplomatic relations with Saint Vincent and the Grenadines in 1981, both governments have launched, and implemented, many cooperation projects in various areas. As both our governments value the importance of education, we have put more and more resources in the field of education," the Ambassador added. 

Ambassador Ger noted several other scholarship programs offered by his government, which have, to date, benefited one hundred and forty-three (143) students in postgraduate studies in Taiwan. The Taiwanese government has also been very instrumental in other youth empowerment programs, and continues to be the driving force behind the Youth Empowerment Service (YES), and Supportive Education and Training (SET), programs, which have significantly impacted the lives of many Vincentian youth.

This year's award ceremony is being conducted in the form of a road-show, with the campus of the SVGCC being just one leg of the nationwide event, which has already visited Georgetown and Kingstown, to award primary and secondary students from across the country.
SOURCE: API