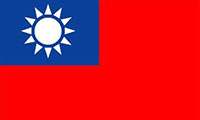 Seventeen young persons accepted their Taiwan scholarship certificates at a presentation ceremony on Monday 14th August at the National Public Library.
In his remarks, Minister of Education, Hon. St. Clair Prince, commended the Taiwanese Government for their contribution to education in Saint Vincent and the Grenadines inclusive of the Youth Empowerment Service (YES), Programme.  Minister Prince reiterated that the Ministry of Education is very grateful to Taiwan for their gestures of friendship.  He urged scholarship recipients to do their best in Taiwan and to keep their eyes on what they are going there to do.

Ambassador of the Republic of China, Taiwan to Saint Vincent and the Grenadines, H.E. Baushuan Ger; extended congratulations to the 2017 scholarship recipients.  Ambassador Ger explained to the audience that 19 scholarships were offered however two persons declined the offers due to personal reasons.

The Ambassador of Taiwan pointed out the importance of nurturing young talent so that they can be well equipped to face the future.  He is pleased that all 13 MOFA scholarship recipients will take the opportunity to learn Mandarin Chinese.  Ambassador Ger reminded the 2017 scholars to enjoy their stay in Taiwan while maintaining excellent grades.

The 2017 MOFA Taiwan scholarship recipients are as follows: Adriana Ragguette, Ajee Sam, Gaidell Andrews, Oszake James, Oliseh Parris, Zimron Mitchell, Rae-Dawn Thomas, Timnisha Mathurin-Roberts, Ari Shaw, Alencia Allen, Darron John, Raphique McMaster, and Curt Sutherland.

The 2017 TaiwanICDF scholarship recipients are as follows: Chanolde Munroe, Earnstrong Soleyn, Zoia Sam, and Joel Patterson.

The scholarship recipients will leave these shores in the upcoming weeks to pursue their tertiary education.
SOURCE: API