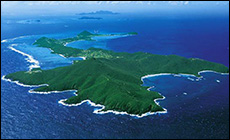 An official ceremony was held in Canouan on Monday, 10th April for the opening of the Glossy Bay Marina. 

The Marina is comprised of 120 Berths, a Head Office and Operations Centre; Commercial Units; Residential Apartments; Restaurant; Beach Club and Private Villa Lots. 

Delivering the main address, Prime Minister, Hon. Dr. Ralph Gonsalves, said that the multi-million dollar facility will be an asset to the country's tourism product.

Other addresses came from Marina Manager, Mr. Bob Hathaway; Chief Executive Officer of Glossy Bay Construction, Ms. Elena Korach; and owner of the Marina, Mr. Dermot Desmond.
SOURCE: NBC