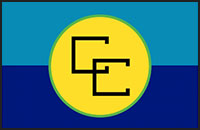 Several important issues were addressed at the 28th Inter-Sessional Meeting of CARICOM Heads of Governments held in Guyana last week.

Prime Minister, Hon. Dr. Ralph Gonsalves, attended the 16th and 17th February meeting, which was chaired by President of Guyana, David Granger, and focused on a number of critical issues.

At a media conference on Monday 20th February, Prime Minister Gonsalves said that relations between CARICOM and the United States were among matters dealt with at the meeting and that a detailed report on the Status of the CARICOM Single Market and Economy was also presented.

He noted that Saint Vincent and the Grenadines is among the countries in the region which comply the best with matters concerning the CSME, both in respect of the legislative frame work and administrative arrangements.
SOURCE: NBC