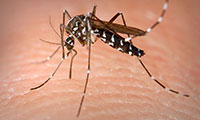 Regional health experts are expected to discuss the way forward in the fight against the Zika virus at a national Symposium to be held here this week.
The Ministry of Health, Wellness and the Environment and the Pan American Health Organisation (PAHO), will host the Zika Symposium on Thursday, 18th February at the NIS Conference Facility, from 5:30 p.m.
 The symposium coincides with the visit of the Director of PAHO, Dr. Carissa Etienne, who will present remarks. 
Chief Medical Officer, Dr. Simone Keizer-Beache, said that the symposium is another indication of the regional effort to tackle the Zika virus.
Source: NBC Radio