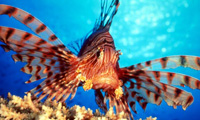 The National Fisherfolk Organisation (NFO), has indicated that more fishers will soon have training on how to handle Lion Fish.
Winsbert Harry of the National Fisheries Office (NFO), while delivering remarks at a recent media briefing, said that the next phase of their involvement in the East Coast Marine Managed Areas Network (ECMMAN), project is the training of 25 persons in the handling and cleaning of the invasive Lion Fish species. This training will take place in mid-February and will be conducted by the NFO and the Fisheries Division in the Ministry of Agriculture, Forestry, Fisheries and Rural Transformation.
Mr. Harry said that the only way to get rid of the invasive species of fish, is to consume them.  He highlighted some activities his organisation plans to put on in order to educate the public and encourage people to consume Lion Fish.
Source:   NBC Radio