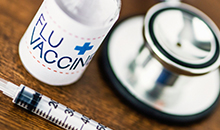 The Ministry of Health, Wellness and the Environment notes that there is increasing influenza activity in the Caribbean region at this time and is closely monitoring this situation.

Influenza cases increase during the flu season. However, the exact timing and duration of flu seasons vary. While seasonal flu outbreaks can happen as early as October, most of the time flu activity peaks between December and February, but activity can last as late as May.

The Ministry wishes to assure the public that health professionals will continue to work to maintain and strengthen the systems that are in place to detect and respond to increased influenza cases.

The Ministry of Health, Wellness and the Environment advises members of the public to practice respiratory hygiene measures in order to reduce the risk of transmission of influenza and other respiratory viruses. Persons are advised to cover their mouth with a tissue or handkerchief if sneezing or coughing. They should safely dispose of used tissues, wash hands with soap and water after coughing and sneezing, as well as before and after meal preparation, eating and use of the toilets.

The Symptoms of the Influenza virus include:

Sudden high fever (over 38°C or 100°F)
Sore throat
Runny or stuffy nose
Headache
Body aches
Fatigue

Persons experiencing Influenza-like symptoms, weakness or breathing difficulty should present immediately to the nearest Health facility or the Accident and Emergency Departrment of the Milton Cato Memorial Hospital for appropriate management.

Persons at high risk who are experiencing flu-like symptoms should seek early medical attention. High risk patents include:
Pregnant women
Health care workers
Children under 2 years of age;
Persons with respiratory complications like asthma and chronic lung disease;
Persons with weakened immune systems, including persons living with HIV persons on chemotherapy and Persons with chronic non-communicable diseases including diabetes;
Persons 65 years and older;
The main mode of transmission of influenza (flu) viruses is through droplets released into the air from the coughs and sneezes of an infected person.

The Ministry of Health, Wellness and the Environment also uses this opportunity to let Vincentians know that we are on the alert for the Zika Virus. Cases of the virus have been confirmed in the region.

Zika is a viral disease, transmitted by the aedes aegypti mosquito, the same vector responsible for Dengue and Chikungunya.

The symptoms are also very similar to these diseases and include fever, muscle and joint pain, headache, conjunctivitis, swelling of the lower limbs, nausea, weakness and rash. These symptoms occur about three to twelve days after being bitten by the infected mosquitoes.

No case of ZIKA virus has been reported in SVG at this time, but with increased travel throughout the region and with the vector (aedes aegypti) present in St. Vincent and the Grenadines we must be vigilant.

Effective prevention and control are fundamental in order to prevent transmission of the virus.

The MOHWE has heightened the surveillance system to detect and respond to any Zika cases. The Ministry will continue to intensify public health interventions, including fogging activities, inspection of properties, destruction of mosquito breding sites and health promotion activities.

The Ministry, therefore, appeals to the public to take all preventative measures, to inspect their homes drains and yards and eliminate potential mosquito breeding sites indoors and outdoors, keep water drums and barrels tightly covered, and throw out stagnant water from flower vases, old tyres, and other containers that might act as breeding sites.

In addition, persons are encouraged to protect themselves from mosquito bites by wearing long-sleeved clothing or long pants, using insect repellents, and bed nets while sleeping.

Persons displaying signs and symptoms of Zika virus, especially pregnant women, should visit their health centres and seek medical attention.