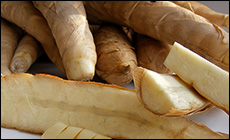 The redevelopment of the arrowroot industry in Saint Vincent and the Grenadines, was the main highlight of discussions held on Tuesday 15th August, at a one-day workshop.
Stakeholders at the forum carried out an assessment of the arrowroot industry, in relation to market, technology, food safety and quality compliance.

The local participants are joined by consultants from the International Trade Centre, the joint agency of the World Trade Organisation and the United Nations.

During his remarks at the opening, Mr. Raymond Ryan, Permanent Secretary in the Ministry of Agriculture, Forestry, Fisheries, & Rural Transformation, said that the agricultural sector is vital to the development of the country. He however noted that the sector remains vulnerable, as it is facing a number of challenges.

Mr. Ryan added that the Arrowroot Industry Association has indicated that buyers have expressed an interest in purchasing 100,000 pounds of starch per year, but the potential market is estimated to be even larger, given a growing demand for gluten-free products.

He further stated that although the Government is moving to revitalise the industry, there are a number of underlying issues that need to be addressed.

In presenting his report on the findings of the arrowroot industry in Saint Vincent and the Grenadines, Professor Leonard O'Garro, of the University of the West Indies, said that the industry has a bright future.
Mr. Matias Urru-tigoity of the International Trade Centre in Geneva, said that the objective of the project is to help to provide an income for the farmers in Saint Vincent and the Grenadines.
SOURCE: NBC