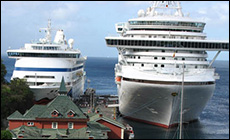 Prime Minister, Hon. Dr. Ralph Gonsalves, will host executives and other officials from international cruise lines on mainland Saint Vincent, on Wednesday 31st May at the Argyle International Airport (AIA), where matters relating to the cruise industry in Saint Vincent and the Grenadines, will be discussed.

The officials, Mr. Leon Sutcliffe of Carnival Cruise Line, Director of Commercial Ports and Government Relations; Mr. Federico Gonzalez-Denton of Royal Caribbean Cruise Line and Associate Vice President, Government Relations Latin America and the Caribbean; Mr. Russell Daya of Disney Cruise Lines; and  Ms. Michelle Paige, President, Florida Caribbean Cruise Association; will arrive at the AIA on Wednesday morning.


The visiting cruise officials will be met by Prime Minister Gonsalves, Minister of Tourism, Sports & Culture, Hon. Cecil Mckie, and other senior Government and cruise officials at the AIA. Following discussions there will be a media briefing at the AIA's VIP Lounge at 11:00 a.m. 


Media houses are invited to cover same.


SOURCE: API