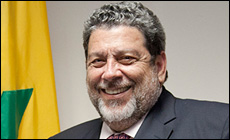 A number of medical supplies and equipment were handed over to the Georgetown Hospital on Thursday, 13th April. The supplies and equipment were donated by a former resident of Georgetown, Mr. Neil Corke, who currently resides in the United States of America.

The supplies and equipment include two commodes, a wheel chair, adult pampers, scrubs for nurses, stethoscopes and sterile dressings. Prime Minister and Parliamentary Representative for the North Central Windward Constituency, Hon. Dr. Ralph Gonsalves, who was on hand to witness the handing over of these supplies and equipment to the hospital, said he is very happy and grateful for Mr. Corke's assistance.

Dr. Gonsalves noted that the Corke and Hadley families, of which Mr. Neil Corke is a member, are good and important families in the community. 'It really says something about a young man who left here when he was just eight years old, but having drank the Saint Vincent water early, it is in his blood for his entire life. He has even reached retirement age and he is still thinking about the area where he grew up and those who helped to mold him in those early years.

"It is a fantastic story and I want to thank him and his family, for all the contribution that they have made," Prime Minister Gonsalves said.  "I know a lot of people in the diaspora help out, but I think Neil is an example, and I want God to bless him and his family and his other connecting families and friends." Dr. Gonsalves said.  Dr. Gonsalves also thanked the Sutherland family of Georgetown, who facilitated the receipt and presentation of these items donated by Mr. Corke. The Prime Minister urged more persons in the diaspora to assist in a tangible way, and he commended the Friends of the Georgetown Hospital for their contribution to the Georgetown Hospital over the years.
SOURCE: API