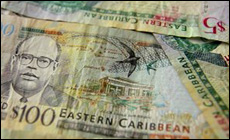 Prime Minister and Minister of Finance, Hon. Dr. Ralph Gonsalves, in his budget address on Monday, 6th February, announced several fiscal measures to be implemented in 2017.  These included an increase in the airport service charge, and disaster and telecommunication levies.

According to Dr. Gonsalves, the airport service charge will increase for departing passengers "by aircraft from Saint Vincent and the Grenadines to EC$100.00 (US $40.00).  This measure will be implemented from 15th February 2017 and will yield approximately 5 million dollars per anuum".  Dr. Gonsalves pointed out that this increased service charge is still lower than the airport service charge in several CARICOM countries.

Secondly, the Prime Minister has proposed to introduce a disaster levy of 1% in consumption within the state, which will offset costs to rehabilitate in the aftermath of natural disasters. The funds will be used to capitalise the Contingences Fund, which is being established pursuant to Section 72 of the Constitution, the Prime Minister explained.  

According to the Minister of Finance, the most efficient way to give effect to this measure is to increase the standard rate of the VAT from 15% to 16%, and the rate of accommodation and other tourism-related activities from 10% to 11%.  The VAT increase will take effect from 1st May, 2017 in order to give businesses the time necessary to make the required alterations to their systems. The revenue yield from this measure is estimated at 10 million dollars per annum.  Within three years, the Government undertakes to review this measure, Dr. Gonsalves stated.


Thirdly, in 2016, Prime Minister Gonsalves introduced the telecommunication levy of 2% on telephone calls originating from SVG.  Dr. Gonsalves disclosed that these funds are allocated to the Zero Hunger Trust Fund to assist the Government in its fight to eradicate hunger in our country".  As of 1st March, 2107, this levy will be applied to incoming calls and data. 

Value added tax (VAT), professional licence fees, stamp duties, alien's landholding licences, and traders licences, are among fiscal measures for 2017.  Prime Minister Gonsalves has maintained that these are measures aimed at increasing revenue to finance our ambitious plans for growth and development.
SOURCE: API