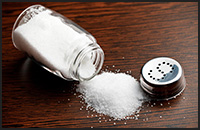 There is a call for the nation's youth to ingest lest salt. Nephrologist at the Milton Cato Memorial Hospital, Dr. Twanna Browne-Caesar, believes the excessive intake of salt is a contributing factor to the alarming rate of hypertension in the youth across St. Vincent and the Grenadines.
She said that it is important to educate the youth about healthy eating to reduce hypertension and child obesity.

Meanwhile, the Salt-Smart Coalition Co-ordinator, Ms. Beverley Liverpool, said that the Ministry of Health will continue is projects to encourage persons to lower their salt intake.
Source: NBC