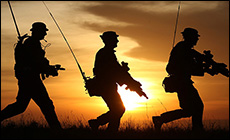 The Commonwealth of the United Kingdom (UK) has relaxed the rules for Commonwealth recruits wanting to serve as part of the Britain's Armed Forces.

In 2013, recruits from the Commonwealth countries were banned from joining Britain's Armed Forces unless they had lived in the United Kingdom for five years.

The British Government has waived its residency requirements to allow 200 Commonwealth citizens per year, to fill roles in regular forces. In a written statement on 13th May, British Defence Minister, Ms. Penny Mordaunt, said there was a 'long tradition' of soldiers from Commonwealth nations serving in the British military, noting that 'We, the UK, continues to value their service, which provides an important contribution in defending the UK at home and abroad.

The roles that are available for nationals from the nation states within the Commonwealth, Saint Vincent and the Grenadines included, are as follows:


Engineer Logistics Specialist

Gunner Logistics Specialist

Marine Engineer

Petroleum Operator

Vehicle Mechanic

Recovery Mechanic

Metal Smith

General Fitter

Chef

Logistics Supply Specialist

Medical Technician

Musician

Registered nurse


Interested persons are asked to register, and find more information at the following: http://www.army.mod.uk/join/commonwealth
Source: API