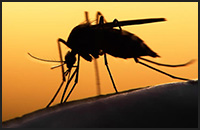 St. Vincent and the Grenadines will host a regional workshop during the period Tuesday, 19th April - Friday, 22nd April, 2016, on Risk Communication, Vector Control and Spatial Analysis Training. The workshop is organized by the Ministry of Health, Wellness and the Environment and the Pan American Health Organization (PAHO) and the World Health Organization (WHO) and will take place at the Blue Lagoon Conference Room from 8:30 a.m. daily. It will support countries in risk communication methodologies and their implementation of the use of Global Positioning System devices to enhance hot spot detection and targeted vector control.
With the threat of vectors and their associated viruses, such as dengue, chikungunya and Zika, the region is taking proactive measures to strengthen vector control approaches by incorporating the use of new technologies in the form of spatial data programmes. Such technologies, coupled with improved risk communication methodologies, will augment the efforts made by the region in vector control and help with decision making and policies.
The objectives of the training are:
Training in risk communication;

Training in the different components of vector control;

Training on the use of Global Positioning System (GPS) hand held devices;

Evaluation of the effectiveness of the GPS data collection system, using case studies from Barbados and St. Vincent and the Grenadines; and

Discussion related to the best variables to use, additional variables, best methodology and most useful graphics.