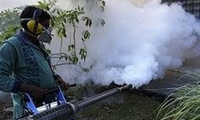 The Ministry of Health, Wellness and the Environment advises the general public that as part of its intensified Mosquito Control Program, in the light of the Zika Virus in the region, officers within the Insect Vector Control Unit will conduct fogging operations on the following days and places, beginning at 4:30 p.m. daily.

Wednesday, 23rd March, 2016:
Lower Bay, Friendship, Diamond, Princess Margaret (Bequia)
Thursday, 24th March, 2016:

Home owners and owners of business enterprises in the named areas are required to keep their windows and doors open to allow the fog to take effect.

Parents and guardians are advised that they should not allow their children to run or play near to the vehicles during fogging operations.
Persons who are suffering from any respiratory illnesses are kindly asked to take precautionary measures until the area has been fogged.