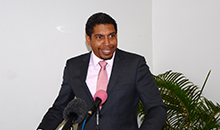 Minister of Information, Hon. Camillo Gonsalves, said that as the digital age continues to develop, Vincentians are expecting more from the Government in the area of Information and Communications Technology (ICT).
He made this statement while delivering the feature address during the opening of the training session and stakeholder workshop for the Internet Exchange Point (IXP) on Monday 25th Janurary. Minister Gonsalves said that, like the rest of the world, Vincentians are seeking to have everything brought up to speed with the new digital trends and the Government must facilitate this development.
He also gave the commitment that the Government will continue to press ahead with its programs aimed at the enhancement and modernisation of the country's ICT capabilities and the way in which they operate. He added, for modernisation of the ICT Sector program to be effective and successful, it has to first put the necessary mechanisms in place.
He further stated that the launch of the IXP is one of such initiatives which have to be implemented to chart the way forward.
Source:  NBC Radio