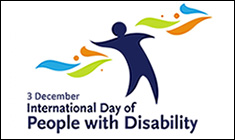 St. Vincent and the Grenadines will join the global community in observing International Day of People with Disability on December 3rd.

It is a United Nations sanctioned day that aims to promote an understanding of people with disability and encourage support for their dignity, rights and well-being.

According to the United Nations, over one billion people, or approximately 15 per cent of the world's population, live with some form of disability.

The National Society of Persons with Disabilities hosted a number of activities throughout the month, as a lead-up to the day.
Source: NBC Radio