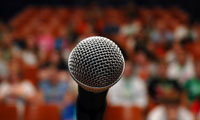 The Ministry of Health, Wellness and the Environment, held its Annual Primary Schools Public Speaking Competition on Thursday, 8th June.

Grade 6 Students debated the Topic: "Should Parents Be Blamed, Or Not, For The Misconduct Of Their Children?" in the Annual Primary Schools' Public Speaking Competition. It took place at the Methodist Church conference hall, in Kingstown.
The Accreditation Unit and the National Accreditation Board (NAB), will be observing World Accreditation Day, 9th June, for the first time in Saint Vincent and the Grenadines. This observation will take the form of the launching of the National Accreditation Board's website at the Peace Memorial Hall at 10:00 am.