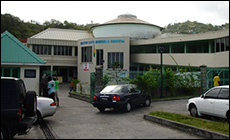 The Ministry of Health, Wellness and the Environment, along with the Ministry of Foreign Affairs, Trade & Commerce held a closing ceremony for the Grant Assistance for Grass-Roots Human Security Projects (GGP), for the purchase of medical equipment for the Milton Cato Memorial Hospital.
The GGP was established to assist NGOs and local public authorities in developing countries, in responding to various developmental needs in a prompt and complete manner, even though on a comparatively small scale.

In his remarks, Deputy Prime Minister and Minister of Foreign Affairs, Trade and Commerce, Hon. Sir Louis Straker, expressed his thanks to the Government of Japan in providing equipment that will bring advance resources to the hospital, and provide better health care.

Medical equipment was donated to the Urology Department in the hospital, and for Bronchoscope and mobile blood banks.  Minister Straker noted that all of the equipment donated will enhance the wellness of the people of Saint Vincent and the Grenadines (SVG), and that this project focuses on the sustainable goal number 3, which promotes good health and well-being.

According to the Consular and Deputy Head of Mission from the Embassy of Japan in Trinidad and Tobago, Mr. Yoshinori Yakabe, the hospital received a grant for USD$90,792.00 to improve the medical services in SVG.  He stated that the government of Japan recognises the importance of the hospital to the people of SVG, and wants to continue working with the government, to build a strong bilateral relationship between the two countries.

The Minister of Health, Wellness and the Environment, Hon. Luke Browne, also spoke at the closing ceremony.  He noted that the Mobile Blood Banks that were donated would be a great addition to the hospital.  They will now be able to travel out into the communities across the island and get more persons to donate blood.  He also said that getting people in rural areas to come to Kingstown to donate blood for someone that was not a family member has been a challenge.  He also mentioned that over $400,000 in medical equipment would be shipped to SVG in March 2018, and looks forward to the growing relationship between Japan and Saint Vincent and the Grenadines.

Several speakers from the departments that benefited from the project also spoke at the ceremony and expressed their thanks to the government of Japan on their generous donations; including Elliot Samuels who spoke about the donation of the mobile blood banks to the hospital.  He noted that in 2016, with 1,113 blood donors, 80% were donations for another family member. With over 7,000 requests for blood in 2016 the hospital was only able to supply 15%. With the new mobile blood banks, he hopes that the hospital will be able to fulfil more requests for blood.

The closing ceremony was held on Tuesday, 31st October at the Ministry of Foreign Affairs, Trade and Commerce's conference room.
SOURCE: API