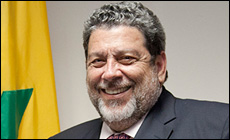 Prime Minister, Dr. The Hon. Ralph E. Gonsalves, was among Heads of Government of the Caribbean Community (CARICOM), attending the Sixth CARICOM - Cuba Summit on Friday 8th December in Antigua and Barbuda at the Carlisle Bay Resort, in St. Mary's.
The meeting was co-chaired by the Chairman of CARICOM, Prime Minister, Dr. Keith Mitchell of Grenada, and the President of Cuba, Raúl Castro.
CARICOM and Cuba have enjoyed 45 years of diplomatic relations and it was expected that Friday's meeting will examine issues of regional and international importance including climate change adaptation and disaster risk management.
According to a release from the CARICOM Secretariat, a memorandum of understanding will be signed between the Caribbean Disaster Emergency Management Agency (CDEMA) and Cuba's Agency for Civil Defence, which will provide opportunities for closer collaboration, especially following the devastating impact of the September hurricanes across the region, and the increased focus on climate change resilience.
The Second Protocol to the CARICOM- Cuba Trade Agreement was signed in November 2017 to strengthen trade relations between CARICOM and Cuba. This protocol expands reciprocal duty-free market access to more than 320 items including meat, fish, dairy products, fruits, vegetables, beer, rum, cement, soap and apparel.
Cuba, a significant development partner, has supported the Caribbean Community in building its human resource capacity through scholarship programmes offered in several areas of study, including health and medicine, sports, agriculture and trade.
The summit will conclude with the adoption of a CARICOM-Cuba Joint Declaration.

Prime Minister Gonsalves was accompanied by Minister of Finance, Economic Planning and Sustainable Development, Hon. Camillo Gonsalves; Minister of Education, National Reconciliation, Ecclesiastical Affairs and Information, Hon. St. Clair Prince; and Ambassador to Cuba, H. E. Ellsworth John.
SOURCE: API