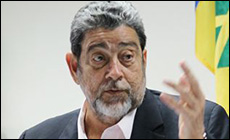 Prime Minister, Hon. Dr. Ralph Gonsalves, today, Friday 10th November, announced changes to the Cabinet of Saint Vincent and the Grenadines.
Hon. Camillo Gonsalves is now this country's Finance Minister; he will also continue as Minister of Economic Planning and Sustainable Development.

Hon. Saboto Caesar will add the portfolios of Industry, Labour and Bureau of Standards to his existing portfolio as Minister of Agriculture, Forestry, Fisheries and Rural Transformation.

Minister of Transport, Works, Urban Development and Local Government, Senator Hon. Julian Francis, will take on the further responsibility of Postal Services.

While, Minister of Education, Reconciliation and Ecclesiastical Affairs, Hon. St. Clair Prince, will take on the added responsibility for Information, to include the Agency for Public Information and the National Broadcasting Corporation.

Prime Minister Gonsalves will continue as Minister of National Security, Air and Sea Port Development, Immigration and Legal Affairs.

The changes to the Cabinet took effect from Friday 10th November.

Prime Minister Gonsalves will outline further details of this and other national issues at a press conference on Monday 13th November at Cabinet Room beginning at 10:00 a.m.
SOURCE: API