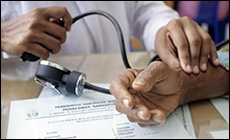 The Ministry of Health, Wellness and the Environment is embarking on a thrust to strengthen its response to the rising scourge of Non-Communicable Diseases (NCDs), in Saint Vincent and the Grenadines.
To this end, the Ministry will be collaborating with the Pan American Health Organisation (PAHO), to convene a meeting with residents of the Georgetown community, to discuss the possibility of developing Georgetown as a "Healthy Village" through multi-sectoral collaboration.

The consultation will be held on Monday 21st August, from 3:00 p.m. – 6:00 p.m. at Georgetown Secondary School.

The aim of the project is to establish "Healthy Villages", especially in rural communities, across the country, using an innovative, grassroots approach, to addressing healthcare and public health, through community education programs.

The goal is to empower villages to improve their own community's health and living standards, through partnerships, thus, improving the quality of life for all age groups in preventing, managing and controlling non-communicable and other diseases.
SOURCE: NBC