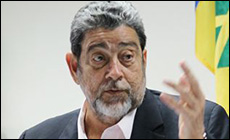 During the delivery of his 16th budget address as Minister of Finance, Prime Minister, Hon. Dr. Ralph Gonsalves, described the 2017 budget as a "staging post for huge achievements for all of our people!" The Minister of Finance described the budget as such because "it builds upon our work of the past 16 years and upon those credible efforts of our predecessors." 
To this end, Dr. Gonsalves captioned the 2017 budget as follows: "Fiscal Consolidation and Economic Growth, Job Creation and Sustainable Development in a Vulnerable Small Island Developing State in the Context of a Challenging Global Environment".  According to him, the budget address focused on four broad areas: Summary of the Economic and Fiscal Performance for 2016; the Focus in 2017; Financial Sector Stability; and Fiscal Consolidation and Fiscal Measures for 2017. 
In the focus for 2017, Prime Minister Gonsalves highlighted the top ten developmental issues for special attention.  These areas include: Climate change, Disaster Preparedness, and Infrastructure Resilience; Argyle International Airport: Making it Work; and Quality Teaching, Science, Technology, Engineering, Arts, and Mathematics (STEAM). 
Dr. Gonsalves has placed top priority on climate change, disaster preparedness, and infrastructure resilience, which he called an "existential threat to our life, living, and physical environment, occasioned by man-made climate change globally".  The Prime Minister, who is also the Minister of National Security, explained that EC 70 million dollars has been allocated in the 2017 Budget to Disaster Reconstruction, Climate Change Matters, and Renewable Energy.  Dr. Gonsalves pointed out that funding will come from multiple sources regionally and internationally by way of soft loans and grants. 
The second priority area is the Argyle International Airport, to be opened on 14th February 2017.  In light of this, Prime Minister Gonsalves used the opportunity to emphasise that the Government and people of St. Vincent and the Grenadines must do all within their power to make the Argyle International Airport work.  He reiterated that "all of us must make the AIA work to the benefit of the people of St. Vincent and the Grenadines, at home and in the diaspora.  It is our patriotic duty to ensure that this happens".  He further stated that capital resources of 31.5 million dollars are allocated to make payments related to the completion of the construction of AIA, and the acquisition of furnishings and equipment for its operation.  Additionally, he said that, as anticipated, there is a temporary subsidy for its operation. 
Dr. Gonsalves is keen that the education revolution continues so much so that he stated that this is a policy priority of the government for 2017.  He called for improvement in the teaching of several "quality" areas, namely, in science, technology, engineering, arts, and mathematics.  Placing priority on these areas will enhance economic competitiveness and labour productivity in our national economy, and to open up employment opportunities in the regional and global economies for our trained personnel, Dr. Gonsalves highlighted. Parents, the national community, policy-makers, and the overwhelming majority of teachers, are demanding that the 120 million dollars of recurrent spending on education, deliver much improved outcomes, particularly in STEAM. 
Other developmental issues for focus in 2017 include: Investment and Productivity; Roads and Bridges; Citizen Security; Health and Wellness, Housing and Lands; Energy (a) Geothermal Development Project and (b) Promoting Access to Clean Energy Services, (PACES); and job creation, poverty reduction, and sustainable development. 
SOURCE: API