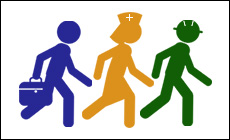 The Government of Saint Vincent and the Grenadines will join with the rest of the International Community in celebrating World Public Service day on 23rd June; a day in which public servants are acknowledged for their contribution to national development. The national theme for this year is "Accelerating Innovative Citizen-Centered Approaches for Improved Service Delivery"

To commemorate this day, the Public Sector Reform Unit (PSRU), will be convening a week of activities from Monday 19th - Friday 23rd June.

The aim is that this year's events will foster new friendships, and strengthen the professional relationship among public officers; highlight and embrace the collaboration among the public, private and social sectors, and ultimately initiate the improvement in the quality of service delivery through the engagement of citizens.

The planned activities for Public Service week 2017 are as follows:
A

church service

, which will take place on Monday 19th at the New Testament Church of God, Wilson Hill, Kingstown from 8:30 – 10:30 a.m. Well-wishers are free to attend the service.
Public officers of participating Ministries and Departments will, on Tuesday 20th and Wednesday 21st,  be engaged in the

Inter-ministerial Staff Internshp

. The exchange of public officers among Ministries and Departments, geared towards promoting the transfer of knowledge and experiences, which would enable the acceleration of innovative citizen-centered approaches, resulting in improved quality of service delivery.
 Individuals within the Public service who have exhibited exceptional comportment and years of service, are to be rewarded with

The Public Servant Recognition Award

, slated for Thursday 22nd.
Additionally, the public will have the opportunity to choose the Government Department with the best customer service. Voting for the

Best Customer Service Department

runs from 7th to 21st June. Persons can use their Digicel mobile phones and NTRC's Website www.ntrc.vc/vote to register their vote.  The departments that emerge the winners will receive the Customer Service Excellence Awards while those who vote via text can win prizes. The aim is to learn from the public, as well as from the winning departments, best practices that can be replicated across the Public Service, in order to serve the general public with the highest quality service delivery.
The first to third place winners will be announced at the event '

Public Service Forum: Panel Discussion

' slated for Friday 23rd, at the Peace Memorial Hall, Kingstown, starting at 9:00 a.m.
The public sector reform unit extends gratitude to all public servants for their valued service. In addition, special thanks to all other entities that gave their full support in making Public Service Week 2017 a success.
SOURCE: API