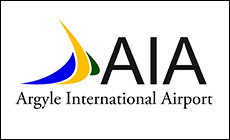 Mrs. Bianca Porter, Chairperson of the Saint Vincent and the Grenadines Tourism Authority, said that it will take some time for regularly scheduled international flights to come in to the Argyle International Airport.

Mrs. Porter, who is also the General Manager of the Young Island Resort, made the point during NBC's 'Views On Issues' Programme on Sunday, 26th February.
The discussion focused on the topic: 'The Argyle International Airport: Prospects and Possibilities for Business and Tourism Development'.

Mrs. Porter explained that International Airlines need time to adjust their schedules to include new destinations. She added that airlines take at least six months to put their schedules out.

Mrs. Porter also said now that the Argyle International Airport is open, greater effort must be put into marketing this country's tourism product.

Mr. Anthony Regisford, Executive Director of the local Chamber of Industry and Commerce, said that a number of business opportunities are emerging, following the opening of the Airport.

He said that an opportunity exists for the operation of an airport shuttle for persons travelling from the Grenadines to the Argyle Airport.

Mr. Regisford added that the private sector should also get involved in organising charters, until regularly scheduled international flights are available.
SOURCE: NBC