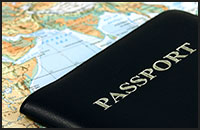 Training is being provided for local personnel, now that the Argyle International Airport has opened.

The Passports and Immigration Department in the Ministry of National Security, will be collaborating with the Implementation Agency for Crime and Security (IMPACS), to hold its first Regional Border Management Training Workshop next month (March 2017).

According to a release from the API, the workshop will be held from 6th - 10th March, at the Ministry of Foreign Affairs' conference room, from 9:00 a.m.

The feature address at the opening ceremony will be delivered by Prime Minister and Minister of National Security, Hon. Dr. Ralph Gonsalves.

Addresses will also come from Permanent Secretary in the Ministry of National Security, Mr. Godfred Pompey, as well as CARICOM Officials.

Participants for the workshop will be drawn from the Immigration and Customs Departments.
SOURCE: NBC