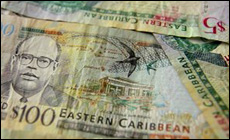 Prime Minister, Hon. Dr. Ralph Gonsalves, said that the Government is taking steps to address the issue of the national debt, by reducing debt service cost.

Presenting the 2017 Budget Address in Parliament on Monday 6th February, the Prime Minister said that as at September 2016, the total outstanding public debt stood at 1.68 billion dollars, the equivalent of 82.4% of GDP.  He said it represents an increase of 12%, compared to the debt of 1.5 billion at the end of September 2015.

He also noted that the debt situation is still manageable, given the long-term low interest nature of much of the public debt, however, care is required to ensure that it is does not spiral out of control.

The Prime Minister further stated the Government will be undertaking a review of the framework for servicing the public debt.
SOURCE: NBC