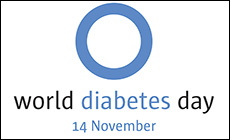 World Diabetes Day was observed on Monday, 14th November under the theme 'Eyes on Diabetes' and, to coincide with the day, the SVG Diabetes and Hypertension Association is hosting a week of activities.
Monday's activity was  a Symposium on Diabetes at the Fisheries Conference Room.
There will also be daily Radio Programs on Diabetes and on Friday, screening for the general public takes place at the site of the old Treasury building.
The Association is appealing to the public and Diabetics patients to integrate screening for diabetes complications into their on-going health care to reduce the incidence of complications.
Dr. Twana Browne-Caesar, Nephrologist is encouraging persons to adopt lifestyle changes to reduce their risk of becoming diabetic.
SOURCE: NBC