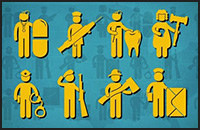 The Public Sector Reform Unit in the Office of the Prime Minister will be co-ordinating Public Servants Patriotic Week 2016, from Monday 24th to Wednesday 26th October under the theme, "Cherishing Our National History to Promote Greater National Pride in the Public Service of SVG.

The objective of the week is to engender a sense of national pride, love and respect for fellowmen and country.

Three (3) activities are planned for the Week:


Office Independence Décor and the wearing of national colours by Public Servants on Monday 24th.


'Hats Off to Independence' Exhibition on Tuesday 25th at the demolished site of the old Treasury building, Kingstown, from 10:00 a.m. to 2:00 p.m.


A  Patriotic Moment - viewing of a documentary of the 1979 Independence signing ceremony on Wednesday 26th.
SOURCE: API