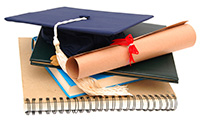 Participants in cohort 2 of the Supportive Education Training (SET) program were recognised for their outstanding work at an Awards Ceremony at the Methodist Church Hall in Kingstown on Friday 15th April.  A total number of 152 participants completed the second leg of the program, which was first started in 2014.
Cabinet Secretary, Ms. Kattian Barnwell, who also has direct oversight of the program gave an overview of the Program explaining that it is credited with exposing young persons to the world of work, giving participants experience, and improving their marketability, through the enhancement of their skills.
Ms. Barnwell also pointed out that the success of the program to date is mainly due in part to the active contributions of the persons who participated in cohorts one and two.
Delivering the featured address, Prime Minister, Hon. Dr. Ralph Gonsalves, pointed out that a significant amount of monies are spent annually to create opportunities for young people. He outlined that his government will spend in excess of E.C.$120 million dollars on recurrent expenditure for education, and nearly 12 million on the capital budget. Dr. Gonslaves also noted that a significant portion is spent on health care for young persons.
The Prime Minister urged outgoing and incoming participants of the program to have their dreams planted in reality and encouraged them to pursue their goals with determination. Dr. Gonsalves further encouraged the SET participants to take advantage of the opportunities that are being afforded to them; but to always find ways to grow and develop within their profession. Cohort two ended on 31st March and on 3rd May 160 participants will commence cohort 3 of the program.
Source: API