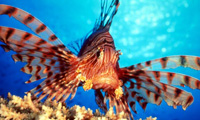 Efforts are continuing to reduce, and to eventually eliminate, the Pterois Volitans (lionfish), invasive species in the waters of St. Vincent and the Grenadines, specifically, the Grenadines.
The St. Vincent and the Grenadines One Health Project Team disclosed these plans at the launch of their country project at a press briefing on Wednesday,13th April at the Fisheries conference room.
The core leaders of the One Health Project Team are: Drs. Malaika Glasgow and Kathian Herbert-Hackshaw of the Animal Health and Production Division, Ministry of Agriculture; and Ms. Kerry-Ann Hamilton, College Counsellor, SVG Community College.  Other team members are Senior Fisheries Assistant, Mr. Shamal Connell; Senior Environmental Health Officer, Mr. Todd Lewis; and Senior Tourism Officer, Ms. Annille Beache.
In introducing the team, Ms. Hamilton said that the aim of the One Health Project is to "improve health and well-being through the prevention of risk and mitigation of effects of crisis that originate at the interface between humans, animals, and their various environments".
She also said that there will be several activities to create further awareness of the lionfish and its effects on local fish populations.  Activities include visits to secondary and primary schools in the Grenadines, poster competitions, and cook-offs.
To ensure a multi-sectoral approach, Ms. Hamilton explained that the One Health Project Team will collaborate with the SVG Hotel and Tourism Association, the Mayreau Regatta Association, Sustainable Grenadines (SusGren), Dive shops, Tobago Cays Marine Park, and fisherfolk organisations.
Mr. Todd Lewis said that he is privileged to be a member of the One Health Project leadership team. He emphasised that health issues are becoming increasingly significant to St. Vincent and the Grenadines and added that the environment, on a whole, is at the centre of everything that we do in St. Vincent and the Grenadines.  According to Lewis, wellness always incorporates people regardless of the topic since everything is interconnected in this particular chain.
The One Health Project Team is a component of the One Health Leadership Series to enable and empower professionals from the health, agriculture, and environment sectors to play leadership roles on cross sectoral issues in Caribbean countries.  This initiative is spearheaded and funded by the University of the West Indies, World Health Organisation (WHO), Pan American Health Organisation (PAHO), Inter American Institute for Co-operation on Agriculture (IICA), and the Food and Agriculture Organisation (FAO).  The project was first launched in November 2014 at the Rex Resorts Turtle Beach Hotel in Tobago and will conclude in March of 2017. 
Source: API