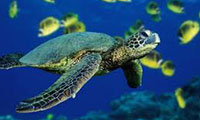 Three (3) persons were arrested on 30th March for being in possession of marine turtle meat at the Biabou Bay.  They are, Raymond Richardson of Biabou, Ivan John of Bridgetown and Andrew Simon of Stubbs.

The Fisheries Act No. 8 of 1986 Chapter 59 Part IV, Section 17 (2) e under Fisheries Conservation Measures states that: "no person shall take, sell, purchase or have in his/her possession any turtle, or part thereof, during the closed season for that species of turtle". The closed season is from 1st March to 31st July of each year.


The three appeared at the Magistrate's Court in Biabou on Friday 1st April.


Persons are reminded that it is against the law to have in their possession, turtles or any part thereof, during the closed season.
Source: Ministry of Agriculture Communication Unit