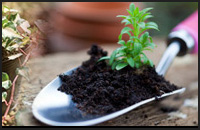 One Hundred and Twenty (120) households in six (6) communities are expected to benefit from a Backyard Garden Project during  the next six months.
The initiative is being spearheaded by the Rural Transformation Unit (RTU) within the Ministry of Agriculture, with funding provided by the Basic Needs Trust Funds (BNTF).
The project has as its objectives; enhancing capacity for improved food security and livelihood of households, provide access to fruits and vegetables and promote the utilization of fruits and vegetables. On Monday, 29th February, 2016, the project officially gets underway with training sessions in Glenside Mesopotamia at the Evesham Learning resource Centre, from 9:00 a.m. to 12:00 p.m., and in Calliaqua at the Anglican Parish Hall, from 1:00 p.m. to 3:00 p.m.
Participants will receive vegetable seedlings, namely: tomato, lettuce, sweet pepper, cabbage and egg plant. Cucumber seeds, compost and garden tools. In addition, the Rural Transformation Unit (RTU) is encouraging households to plant peas, bean, pumpkin, carrots and other crops.
The RTU will also provide further training in different aspects of vegetable production throughout different locations across the country. The areas include; Clare Valley, Layou, Coulls Hill and Langley Park.
Source: Ministry of Agriculture - Communication Unit