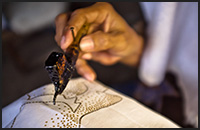 The Adult and Continuing Education Division within the Ministry of Education, in collaboration with the Ministry of Foreign Affairs, Trade, Commerce and regional Integration and the Ministry of Tourism, Sports and Culture proudly present a training programme in the exciting art of Batik.
This Programme is suited to potential entrepreneurs who practice the art of Batik production and have the capability to train others as it will be conducted on a trainer of trainers level.
The training will be facilitated by the experts from Indonesia and Venezuela and will run for seven(7) days duration. Interested persons are asked to register at the Adult and Continuing Education Division by Friday, 4th March, 2016.
Interviews will be conducted to select suitable participants.
Source: API