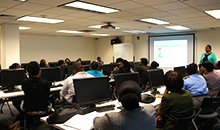 The Service Commissions Department's Training Division in collaboration with the Information Technology Services  Division hosts a two-day workshop on "The use of technology to expedite work processes" on Tuesday, 23rd February and Wednesday, 24th February, 2016 at the St. Vincent and the Grenadines E-Government Centre Training Room.
The workshop targets the middle managers of various ministries and departments within the Public Service.
The objectives of the workshop are to train public servants:
To simplify and streamline work processes to improve operational effectiveness.
To demonstrate how technology can be used to improve productivity and efficiency.
To efficiently and promptly handle changes to work processes which will minimize the number and impact of any related disruption to services.
The facilitators for this workshop are Mrs. Emma Jackson - Deputy Director, PSRU, Mrs. Olicia Browne - Research Officer, PSRU and Ms. Simone Joseph - Web Designer, ITSD.