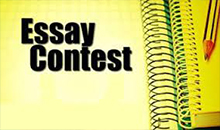 The Ministry of Foreign Affairs, Trade, Commerce and Regional Integration is inviting young Vincentians between the ages of 15 – 30 years to participate in its second Annual Essay Writing Competition.
This year's competition focuses on the thematic areas of the Human Rights and Human Trafficking and Sustainable Development in the Tourism sector.
The Essay Competition is being held from 22nd February to 29th April 2016. The Ministry successfully launched the Essay Writing Competition 2015 and is once again partnering with sponsor Digicel to deliver the 2016 competition. In an effort to challenge participants' understanding on foreign policy matters, they have been grouped into two categories. The topic for group one's essay is relating to the issues of Human Rights and targets person's between the ages of 15 – 20 years, while group two's essay will focus on Sustainable Development in the tourism sector.


The topics are as follows:
Group One: Human Rights and Human Trafficking – Human trafficking is considered to be a form of modern slavery affecting both large and small states, with women and children mostly affected. In an effort to address this global scourge, what political, economic, social and legal interventions would you recommend the Government of SVG undertake? How important is partnership in addressing this issue?
Group Two: The tourism and service sectors have been identified as the major economic earners of the country within the 21st century. In this context, with the increasing impact of climate change on Small Island Developing States (SIDS), what strategies can be implemented to ensure our tourism industry is both sustainable and safe guarded from climate change?
Source: API