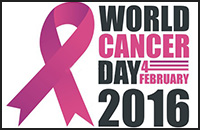 World Cancer Day 2016 is being celebrated around the world on February 4th, 2016, under the theme "We can. I can". The day will be used to explore how everyone as a collective or as individuals can play their part to the reduce the burden of cancer.
The Ministry of Health, Wellness & the Environment, therefore appeals to everyone to use World Cancer Day as a time for reflection on what can be done and also to pledge to take the necessary precautions to fight against cancer. 

The time has come for persons to make healthy lifestyle choices in the areas of healthy diet, increased physical activities, as well as to put an end to tobacco smoking and the abuse of alcohol. Moreover, persons are advised that early detection for cancer saves lives.

In SVG, between 2009 – 2013, cancer was ranked as the number one cause of death here in SVG. Breast cancer was the leading cause of death among females, and prostate cancer among males.