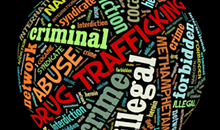 The Financial Intelligence Unit is positioning itself to tackling serious transnational organized crimes.
This is evident through the launch of the FIU's Civil Asset Recovery Division. The division was launched on Friday January 22 at the Ministry of Foreign Affairs Conference Room. Civil Asset Recovery is a remedial statutory device designed to recover the proceeds of unlawful activity as well as property used to facilitate unlawful activity. 
The FIU has partnered with the Bureau of International Narcotics and Law Enforcement Affairs on setting up this division.
Speaking at the launch, Financial Crimes Advisor to the Bureau of International Narcotics and Law Enforcement, Nicola Suter said that they recognize that this region continues to face a serious threat from all types of organized crimes. She pointed out that criminal organisations are becoming ever more sophisticated, well resourced, and audacious in their behavior. "The challenges we the criminal justice agencies face are both numerous and profound", she said. Suter noted that the cross border flow of the proceeds from criminal activity has been estimated to be as great as 1.6 trillion dollars per year. She noted that in the Caribbean drug trafficking often serves as a gateway into crime, paving the way for other associated crimes such as money laundering, trafficking and fire arms and other sorts of transnational organized crimes.

"It is no exaggeration to say that these undermine the fundamental promise of democracy. It imperils development, security, stability, the economy and ultimately the trust that you have placed in the criminal justice system", Suter said. She noted that this has the most devastating effect on the young impressionable members of society. She added that criminal organisations lure the youths into a life of crime and invariably it is those youths who are arrested and convicted while their criminal pay masters remain untouched, unpunished and undeterred. "Unfortunately there are no easy solutions to these problems, tackling serious organized crimes by taking away the enabling factor, the incentive and the money requires a great deal of patience and persistence" she said.
Suter noted that by forming this asset recovery division the first of its type in this region, SVG has taken another vital step to make sure that it not only have the requisite legislation to recovery proceeds of crime but has the requisite resources to use these powers to its full effect. She added that the Division is dedicated to investigating and conducting civil asset recovery and civil cash seizure cases with a robust civil asset recovery legislation in place and a highly trained specialist team committed to enforcing it appropriate cases. Suter noted, "We have every reason to believe that making a good life out of crime will be largely impossible in this country in the future".
She said that she is proud to be able to work with the exceptional partners in SVG in this endeavor and she is confident that the newly formed Civil Asset Recovery Division will be hugely beneficial to SVG's civil asset recovery work.
Source:   API