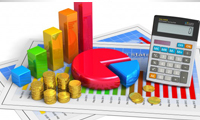 Prime Minister and Minister of Finance, Dr. Ralph Gonsalves, presented the estimates of revenue and expenditure for the fiscal year 2016 in Parliament on Friday, 29th January, 2016, which amounted to $912,897,311.
The Prime Minister said this year's budget is some six percent or 58.5 million dollars below the amount budgeted for 2015. He said the reduction is accounted for on the capital side of the budget, which is about 33 percent less than the planned capital program last year. The Prime Minister said the current expenditure amounts to $576,553,198, while current revenue is estimated at $564,627,600.


According to the Finance Minister, the current revenue estimate for 2016 is 6.1 percent or 32.28 million dollars higher than the budgeted revenue for 2015.
Source: NBC